20 years of experience, a 5-step process and 2 patents. Here's how it works
What we do:
---
How we do it:
The Bill Police® is wireless expense industry experts who provide clients with a completely outsourced wireless management solution. We leverage our powerful patented 5-step process and proprietary technology to identify profit-draining areas of overspend.
Patented Wireless Expense Management
Attaining such high levels of savings for our clients is possible because of our patented wireless expense management process. This five-step process ensures accurate benchmarking, dramatic wireless telecom expense reduction and completely transparent reporting.
We start by taking a "baseline" – or in other words, we audit and analyze your current wireless billings, and then develop an optimized plan (best fit for actual usage) for this user or group of users. This helps manage common billing components across all wireless carriers and wireless rate plans.
The next step is the continual wireless management, optimization, and readjustment based off the previous month's wireless invoices and historical usage trends. To best illustrate this process, please refer to the decision tree below.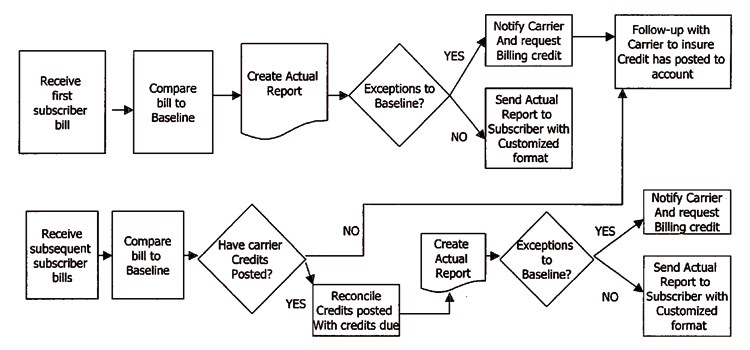 Want to see our patent in action? Let us show you how much your overpaying in wireless. Request an Audit with your data today and see the opportunities.