We have had so many discussions regarding COST AVOIDANCE vs COST SAVINGS that we decided to write a blog about it to clarify the concepts.
First, we'll look at Cost Savings definition, then Cost Avoidance definition and then a comparison of the two concepts. We'll use the graphic below to illustrate, and we'll deal in apples because that analogy seems to work (apple examples also helps when using our comparisons, that is, apples to apples – the old fashioned kind).
Cost Savings
Cost Savings is defined as a DECREASE IN SPENDING for a product or service. Cost Savings is when you purchase the same product or service for less than you spent on it before. This usually applies to the present or NOW.
Cost Savings Apple Example: You usually purchase 5 apples for $.10 per apple. You usually spend $.50 on your 5 apples. This week the apples are on sale for $.08 per apple, you just saved $.02 per apple or a total of $.10 in savings.
Cost Avoidance
Cost Avoidance is defined as AVOIDING SPENDING for a product or service where there are dynamic or changing factors. This usually applies to upcoming purchases (FUTURE) or what you WOULD HAVE PAID instead of what you did pay. Cost Avoidance is when you could have paid something for a product or service and you never had the cost, you AVOIDED it.
Cost Avoidance Apple Example: You usually purchase 5 apples for $.10 per apple. You negotiate a lower rate for the apples with the grocer this week to $.08 (avoiding the cost) and you want to purchase 10 apples (dynamic factor). You purchase the 10 apples for $.08 per apple and pay a total of $.80. Before the negotiation, you would have paid $1.00 at the old rate of $.10 per apple and therefore you AVOIDED $.20 in total cost. Or, cost avoidance = $.20 over what you would have paid.
A Case Study
Below is an actual example of real life customer data. As you can see, the Cost Savings is easily identified from May 2011 to July 2012. The actual spend went from $200,699 to $185,177. This is about a $15,000 Cost Savings every month down from what the customer was spending.
The Cost Avoidance is illustrated by the number of devices. If the customer was spending $200,699 with 2816 devices, that is $71 per device. If they would have spent this same $71 per device on their new increase to 3418 devices, they would have spent almost $244,000 instead of the $185,177 optimized cost they spent. That is $58,000 in costs this customer AVOIDED by having Bill Police optimize and manage the bills. That's a lot of apples!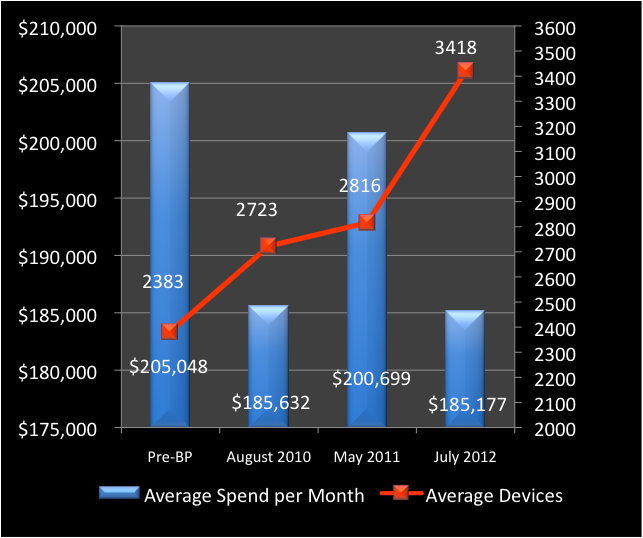 The Frequent Conclusion
The thing that confuses most people is that in Cost Avoidance is that your end price might not be less than what you were paying before, but you will have received more service for that price and you would have paid more for it.
That is, you might not see actual savings on your invoice, but you have avoided costs – — you have avoided dollars that you would have paid by paying a lower rate.
In the above example, you paid $.30 more out of pocket but you obtained 5 more apples and saved $.20 over what you would have paid ($1.00).
If you do not have a VERY CLEAR, measureable ability to quantify an agreed upon baseline, Cost Avoidance can be very confusing to some people, but we know all our readers and customers are the smart ones and we know you all get it. Here's our graphic illustration of our process:
Cost Avoidance is illustrated in the area between the red dotted line (Unoptimized- Cost) and the Blue Line (Optimized Cost). This is the amount that is AVOIDED (e.g. never paid) but would have been paid had the Bill Police not managed the bill.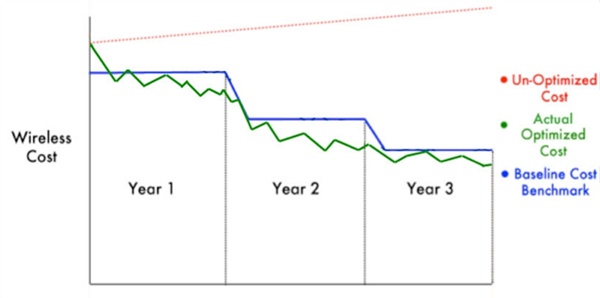 So apples to apples, either way WEM is key to reducing the price of your apples – make sure you or someone you trust is watching for the rotten apples. They can spoil the whole barrel, you know.