We have seen lots of bills this past month containing incorrect Billing for Verizon Cloud.
What is Verizon Cloud?
Verizon Cloud is storage system offered by Verizon to back up and sync your contacts, photos, videos.
What's it cost?
While Contacts-only Verizon Cloud storage is free, 1 TB of storage is $9.99 per month and 500 GB storage is $5 per month after a free one month trial.
If you have an

iPhone,

you probably have iCloud backup. When you sign up for iCloud, you automatically get 5GB of free storage. If you need more space, you can upgrade to a larger storage plan.
If you have an

Android

Phone,

Google is offers the first 15 GB per month for free. and 1 TB

of cloud storage available for just $10 per month.
We like free….so if you are savvy — we know you are!! — and have an Android or iPhone device, you can get more services for free than is offered with Verizon iCloud. Our suggestion is get it off your bill and move to your platform storage options.
What else do i need to know?
Our customers have also been receiving weird emails about Verizon Cloud for their iPhone or Android. Here's an example: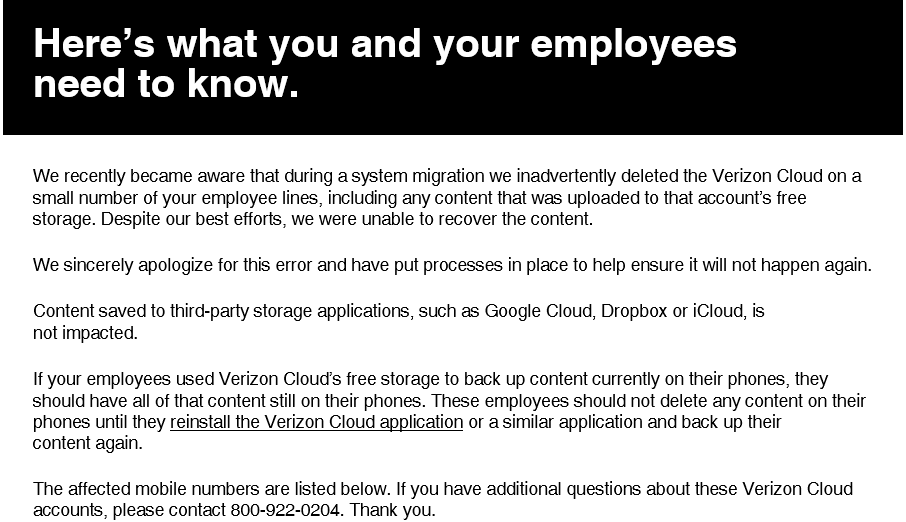 **It turns out that none of the employees listed in Verizon's email even had Verizon Cloud and no data had been backed up to the Verizon Cloud. Odd, huh!
2. We have also been seeing it show up mysteriously on Customer Bills.
If this is happening to you either a user has mistakenly click on "yes" to Verizon Cloud but it is unlikely they have stored backup data there unless you have a company policy to do so
Contact the user: in every case we have investigated, no users have used this feature and we have been able to remove the feature and saved either the $5 or $10 per month per user.
If we have said it once, we have said it a bazillon times,

check your bill!!
Still protecting your Wireless Rights……especially for Kelly today……………………