Because of the recent unveiling of Unlimited Plans, we have fielded lots of questions about the the difference between Throttling and Prioritizing (the recent Verizon Unlimited plans do both depending on the device type).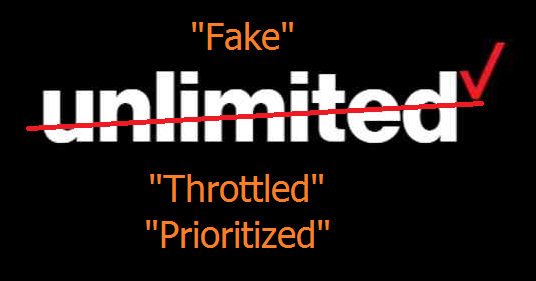 This blog will review the differences and what it means to you.
As you know, no wireless carrier plans are truly unlimited.  See our earlier blog about "Unlimited" being not so much here.    (Should we establish new vernacular of "fake unlimited"? )  That said, the carriers deal with "Unlimited" plans in 2 ways:  Prioritize or Throttle.
Throttling
If a wireless device reaches a pre-determined amount of data usage within a billing cycle, the data speed is then reduced to a pre-determined amount of data speed for the remainder of the billing cycle.
An Example
The new Verizon "Unlimited" plan, data only devices have "Unlimited" data usage up to 10GB of usage.  At this point, the data speed is reduced to 3G speed or about 600kbps.  So, Verizon will guarantee you full 4G LTE speed for the first 10GB of data usage for Data Only Devices then put on the brakes for the rest of the billing period.
Prioritization
If a wireless device reaches a pre-determined amount of data usage within a billing cycle, and there is congestion on the network, then data usage is Prioritized behind other users to an undetermined speed for the remainder of the congested time.   This speed may range from not able to work due to lack of speed (we have heard feedback that this has occurred to some users) or data speeds may just be very slow for an unspecified period of time.  This should not be for the remainder of billing cycle –like Throttling is — but for a shorter period of time.
Basically, users will get full-speed data up to the de-prioritization threshold, and then full-speed if the network is not congested.  The risk is with your usage vs the network's usage. Note that for some MVNOs (resellers) even on the non-prioritized portion, the speed is capped because they will come second to a major carrier's network making room for the carrier to deliver faster speeds for their direct users.
An Example
For Smartphones, Verizon will guarantee full-speed 4G LTE for first 22GB of data per billing period then speed will be slowed by an unspecified amount if the network is congested.   What is "congestion" and what is the slower speed?   This has not been specifically defined by the carriers.  This undetermined status leaves the carrier with freedom to let lower data users to get full-speed over higher data users.
TMobile talks about their prioritization on their site:   "About T-Mobile" page under heading "Network and Management for Extremely High Data Usage and Tethering" that the top 3% will have their data usage prioritized below the data usage of other customers at times and at locations where there are competing customer demands for network resources which may result in slower speeds.  Note that TMobile updates the prioritization schedule quarterly.  This may result in slower speeds for up to 3 months (!)
Prioritization vs Throttling Comparison
Throttle affects the user for the remainder of the billing cycle
Prioritize affects the user for the remainder of the congested period but may be adjusted as short as hourly or as much as quarterly (see user comments below)
Throttling relates only a user to a users own usage requirement:  if you reach your own capacity of data allowance, throttling occurs.
Prioritization depends on how your usage relates to others.  If you are using a high amount of data (typically defined as in the top (typically 3-5%, — usually over about 22-28 GB within a billing cycle), you will be prioritized if congested
Neither option allows a user to have truly unlimited data (either speed or amount of data are not provided at an unlimited amount)
Here are some direct user comments about Prioritizing and Throttling:
"I'm being deprioritizated. The HE'LL it isn't throttling. It's actually worse than throttling. Already when you're throttled you know your going to get at least 3g speeds. When you're deprioritized your connconnection gets cut and "deprioritized" then as you reconnect your data speed has to build back up from zero. I've done numerous tests on and I regularly get less than 1Mbps. ..I see the speeds fluctuate from a compete stop of data flow, then I watch the speed rise slowly sometimes up to 5Mbps or 7Mbps (NEVER MORE THAN 7Mbps) then, I get depriortized and my speeds drop down to .026Mbps or less then, it reconnects and they process starts over again. When your constantly being kicked off the network and reconnecting you get ridiculously slow transfers, SLOWER than if I was just being throttled."
"Hell, at least you got to run a speedtest. My OOKLA speedtest app would not even run when I got throttled (IDGAF how you want to change the definition of "unlimited", it's throttling). My Google apps would not even work. No email. Couldn't even add a Google account. Ridiculous".
So there you have it:  if you want to know if any of the latest plans are fit for you, be sure to contact because we are still…….
……protecting your wireless rights!