Some days you are the Bug; other days you are the Windshield.
When out with the dogs the other day, (Cooper, the 9 month old puppy and Zayne the 8 year old scrappy setter), Cooper somehow wrapped herself around a fire hydrant and gave me whiplash as she flipped on it.   She somehow got her leash caught not just around the hydrant but in the chains around hydrant caps and i could not get her loose.   I was the bug not the windshield.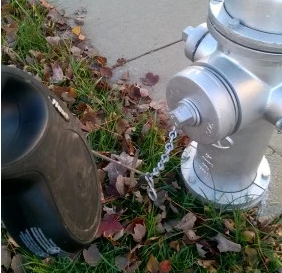 It was pretty comical because at the time it happened, it was early before the sun was up and, as i am getting on in years, i did not have my reading glasses with me — because who needs reading glasses while out on a run?  Apparently me. I could not see anything. I was the bug.
Lesson #1.  Try to be prepared with supplies for one's ailing body before going out in public.
I worked on freeing Cooper for over 15 minutes while sweat is rolling into my eyes and Cooper is crying and pawing me to try get moving again.  I must have looked either hilarious or very suspicious squatting next to the fire hydrant, leaning in with 2 dogs inpatient dogs prancing around me and the hydrant in agitated states.   Several cars drove by and i didn't know whether to wave or duck.  I figured the cops would be finding me soon as a would-be stalker in the neighborhood.   I realized as i looked at myself that i did not personify the typical "professional" runner:  i was wearing dark sweats, a dark coat (albeith both with some reflectors but not by any means the yellow glow-in-the-dark professional sportswear donned by real runners), my dark knit convict cap and my favorite black halloween gloves complete with skeleton heads on one side and skeleton bones on the other side.  I like them especially with the dogs because the little rubber bones make it very easy to wrestle dog poop bags open.  The gloves, however, did not contribute to a non-suspicious persona.  Again, the bug.
Lesson #2:  Try to wear the appropriate apparel for the appropriate task, especially in the dark.
After a herculean effort, no dice on freeing Cooper.  So now, how to get 2 dogs home with only one leash?  i needed a clever solution.   Serendipitously, i had donned my running water bottle belt that morning and i was able to unbuckle it from my waist and tie it to Zayne's collar.  Off we went leaving the stranded leash hanging sadly from the hydrant.  Luckily Zayne is calm on a leash and was seemingly not bothered at all by the water bottles and the waist pouch bobbing in the air between us as we headed for home.
I saw only one other dog walker on the trip back and there was a fearful, aghast look on her face as she saw us approaching.  Upon her first glance, she pulled her tiny dog back in while preparing for a mugging.   I raised a skull hand in a friendly "hi" greeting and moved on home.   Wohoo! I was the windshield!
Lesson #3:  When you are in an awkward position, never forget to be inventive and grateful for all the weird wonders around us that can work in our favor.
Here is wishing  you many more days as the windshield rather than the bug.  Here's also hoping that when you are the bug, you can find ways to turn things around to scrape yourself off, get up and keep on moving.
Cooper and Zayne post run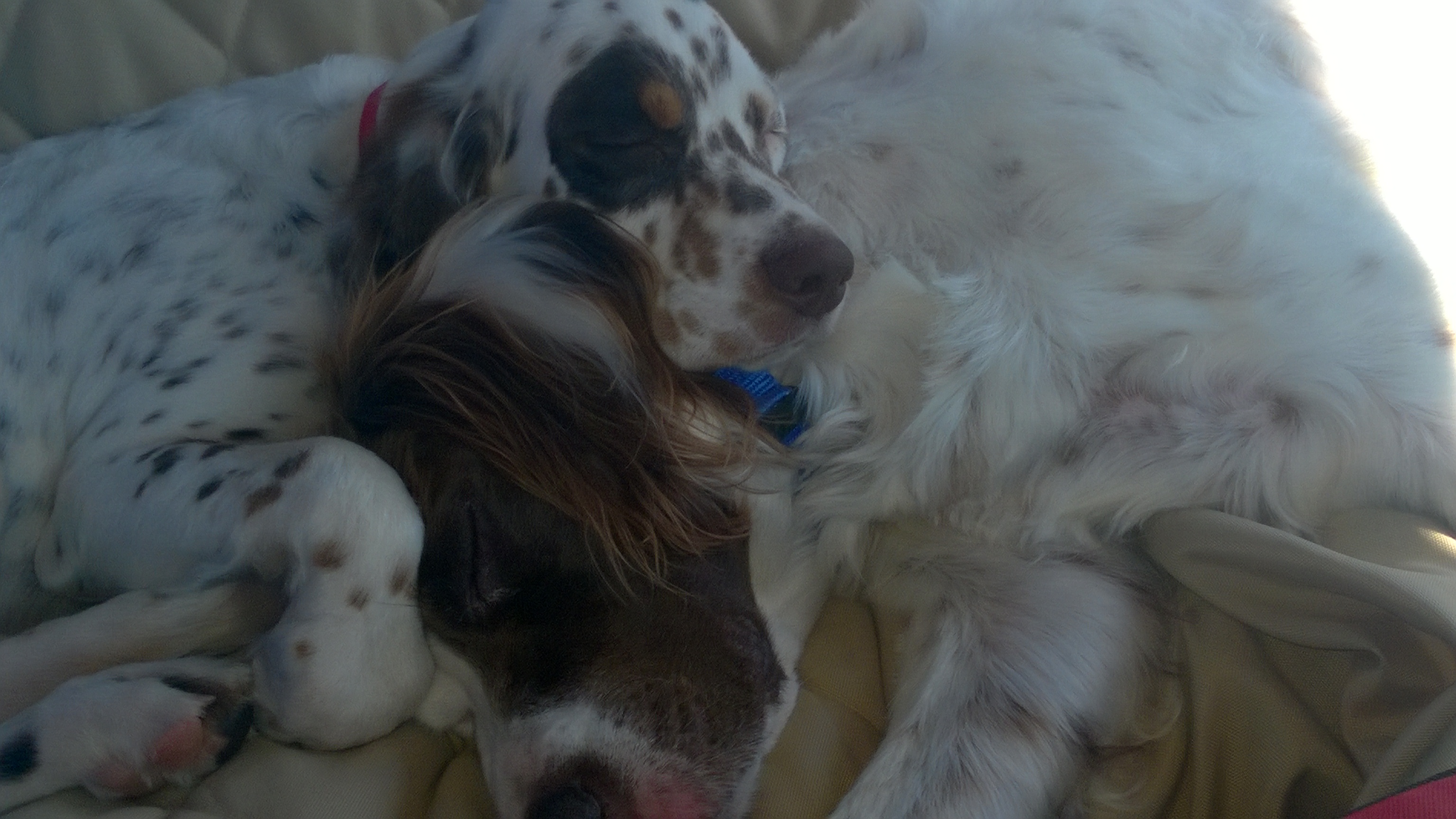 Still Protecting Your Rights….your right to be the windshield more often.