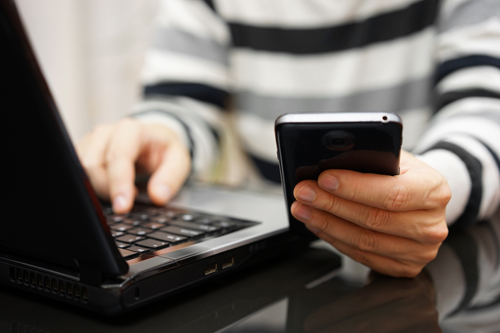 Just how many mobile devices are connecting to corporate networks? According to Check Point Software Technologies Ltd., quite a few; the use of mobile devices is extensive and continuing to grow. As the Bring Your Own Device (BYOD) debate continues, the number of companies allowing employees to access secure corporate networks using mobile devices such as smartphones and tablets has climbed to 95% according to a 2014 survey of more than 700 IT professionals. And surprisingly from a security standpoint, they are not all company-owned; 74% permit access from both personal and company-owned devices. Only 20% say that devices provided by the company may solely be used.
Of the survey participants, 72% report that their companies have more than twice as many personal devices connecting to corporate networks now than compared to two years ago. The ability to see the growth by numbers is thanks to surveys commissioned by Check Point in 2012, 2013, and 2014. The data collected by Dimensional Research represents a statistical sampling of IT professionals from companies positioned in countries across the globe including the United States, Canada, Germany, the United Kingdom, Australia, New Zealand, and Japan. There were some variances in participating countries over the three-year span; however, the survey groups consistently represented organizations ranging in size from less than 100 to more than 15,000.
From a security standpoint, the Apple iOS is viewed as the safer mobile platform for connectivity in corporate environments.   The Android platform currently triggers the most concern for corporate security. The 2014 survey revealed that 64% of the respondents believe that Androids pose a greater risk. This perception was higher than previous years; increasing from 49% in 2013, and almost doubling from its 30% rating in 2012. During the same time period, confidence in Apple improved; as respondent concern decreased from 25% (2012 & 2013) to 16% in 2014.
And when asked about who is a greater mobile security risk — cybercriminals or careless employees – a whopping 87% of the professionals interviewed cited employee behavior as being the more significant threat. The need for tactical security measures and employee education is apparent.
For more on the BYOD debate and risk, check out our previous blog on this hot topic.
If you would like to learn more about renegotiating your wireless contract, be sure to request our free guide, The Five Questions You Should Ask When Renegotiating Your Wireless Contract. Simply click here to download your copy today!
Still Protecting Your Wireless Rights…